As the society battles the scourge of sexual abuse, a Non-Governmental Organisation (NGO), MMGIVIT has joined the crusade against the social ill.

Towards this end, MMGIVIT, a charity organisation, on Thursday in Ilorin, held its annual poetry competition for secondary schools in Kwara State.
Themed: Raising awareness on sexual abuse through poetry, participants from various schools through poems, kicked against sexual molestation and violation, which has psychological, emotional and physical effect on victims.

In his opening remarks, Chairman of the occasion , Professor K.I Adam, who decried the increasing incidence of sexual abuse in the society, stressed the need for intensified awareness on rape and related sexual based violence.

According to him, the 2021 edition of the competition was aimed at highlighting the dangers of the increasing cases of sexual harassment in our society.

No fewer than six secondary schools in Ilorin participated in the competition, which featured both junior and senior categories.

Participants performed to the delight of audience at the well attended event held at the African People's Hall of the late Justice Mustapaha Akanbi situated at number 34, Onikanga street, GRA Ilorin, the Kwara State capital.

At the end of the competition, Gideon Afowowe came first while Elijah Salau of Saint Joseph Secondary School and Mercy Ogunleye of His Grace Secondary School took second and third positions respectively.

For the Senior category, Abdulrahman Halima of Nana Aisha Secondary School won first position while Bashirat Mohammed of same school and Zaniab Adeboye of Unilorin Secondary School were the first and second runner-up respectively.

Prizes were also given for the best poem, which was clinched by Khadijat Odetokun of Unilorin Secondary School; Best Over stage performance won by Favour Olabanji of His Grace Secondary School and Best Teacher Award was won by Miss Kemi Osagie of His Grace Secondary School, among others.

MMGIVIT is an initiative of Professor Muhammed Mustapaha Akanbi SAN, the current Vice Chancellor of the Kwara State University, Malete.

MMGIVIT is an annual event which usually features free Heath service, free health talk, donation of clothing materials, electronic appliances, car spare parts and a host of various useful items to the less privileged in the society. it is organised as part of activities to mark the birthday of the initiator, Professor M M Akanbi SAN.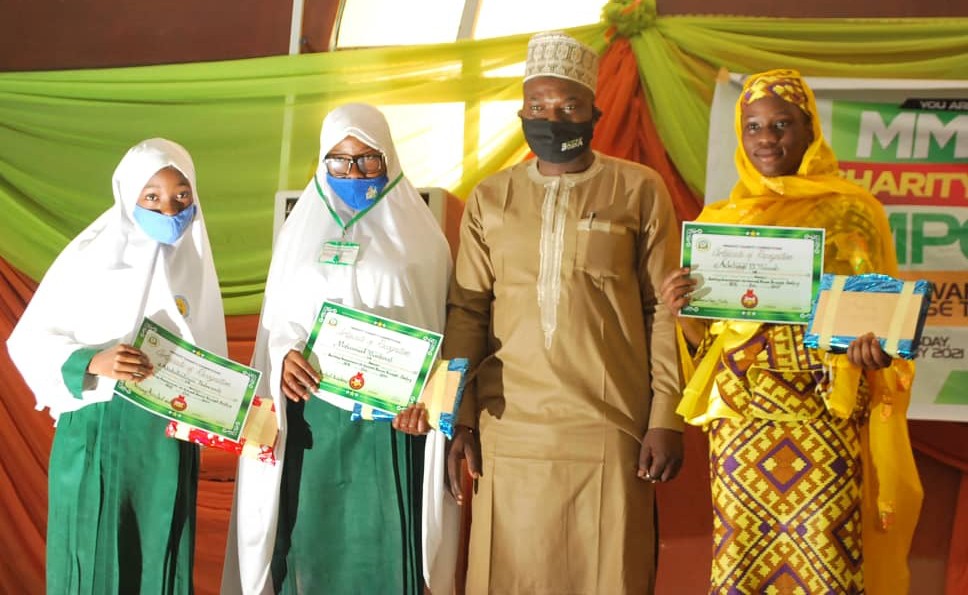 This year programme is the fifth edition of MMGIVIT. 

End